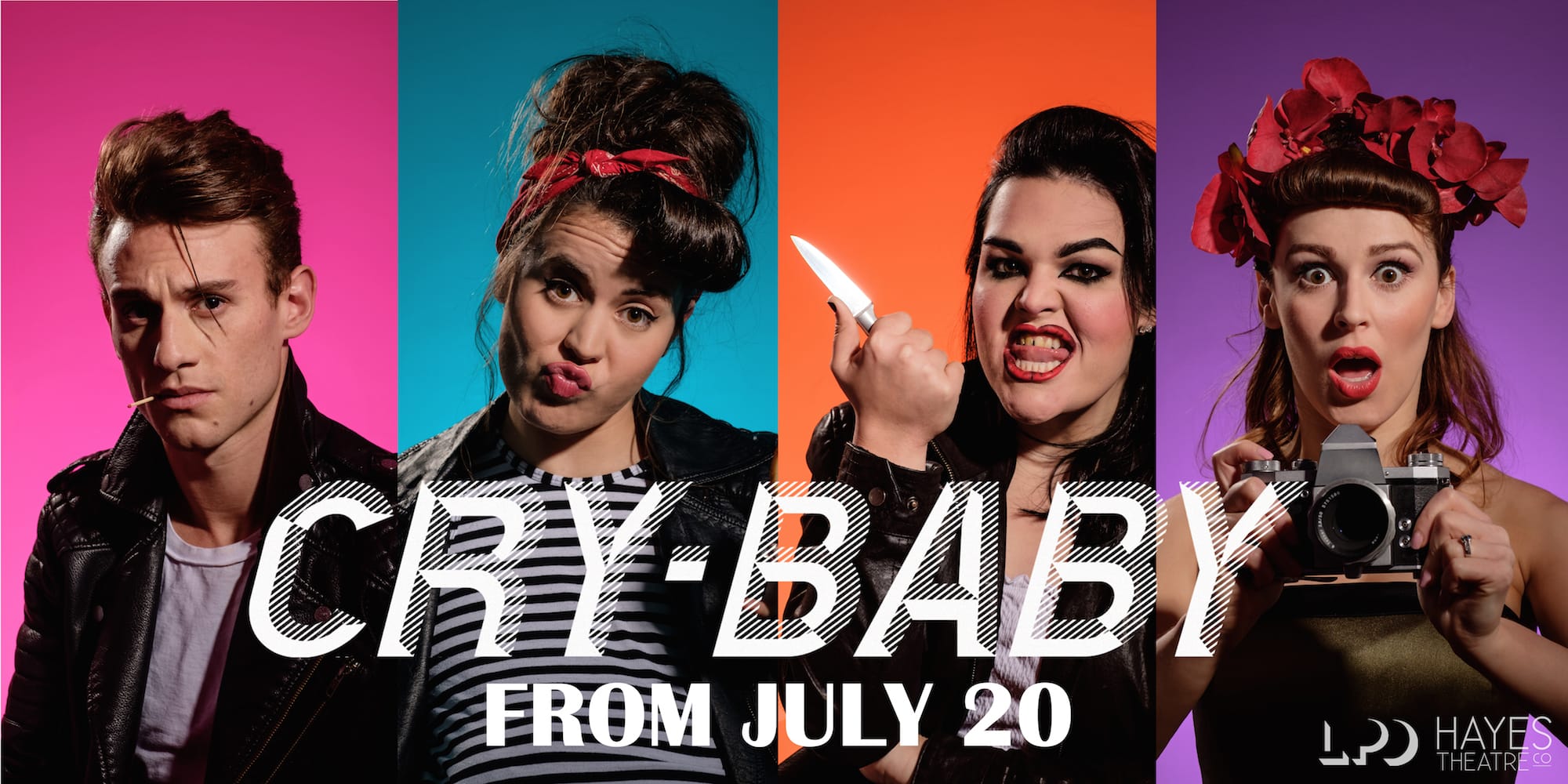 Based on the Universal Pictures film written and directed by John Waters
Presented by LPD in association with Hayes Theatre Co
Director & Lighting Designer Alex Berlage
Musical Director Nicholas Griffin
Choreographer Cameron Mitchell
Designer Isabel Hudson
Costume Designer Mason Browne
Sound Designer Tegan Nicholls
Associate Lighting Designer Veronique Benett
Assistant Director Ruby O'Kelly
Producer Lauren Peters
Starring Christian Charisiou, Ashleigh Rubenach, Laura Murphy, Joel Granger, Beth Daly, Alfie Gledhill, Manon Gunderson-Briggs, Bronte Florian, Amy Hack, Hayden Baum, Aaron Gobby, Ksenia Zofi, Blake Erickson, Brooke Almond
It's 1954. Everyone likes Ike, nobody likes communism and Baltimore is a topsy-turvy moral meritocracy. At the centre of this world are star-crossed lovers Wade "Cry-Baby" Walker – the coolest boy in Baltimore – and his rich but square object of desire, Allison. Cry-Baby is a bad boy with a great cause – truth, justice and the pursuit of rock and roll – so, fueled by hormones and the new rhythms of popular music, Allison turns her back on her King-of-the-Squares boyfriend Baldwin to become a 'Drape', and Cry-Baby's girl. The stage is set for a pitched battle between the squeaky-clean, close-harmony Squares and the rock-and-roll juvenile delinquent Drapes.
Based on the cult-classic 1990 John Waters film, Cry-Baby boasts an hilariously absurd book from the writer of Hairspray, and an insanely catchy score featuring song titles like "I'm Infected" and "Girl, Can I Kiss You With Tongue?". All these elements combine to create a unique, strange and totally endearing musical.
Licensed exclusively by Music Theatre International (Australasia). All performance materials supplied by Hal Leonard Australia. 
The Cry-Baby team are strong supporters of The Wayside Chapel. The Wayside Chapel's vision is 'love over hate'. They live on the intersection between love and hate, the intersection between faith and no faith, between the haves and the have nots, the housed and the homeless, the sick and the well. 
To donate or volunteer at The Wayside Chapel click HERE 
Cry-Baby is a part of the 2011 Postcode Special Ticket Offer
Anyone who lives in the 2011 postcode can obtain unsold tickets for half price to all participating shows at Hayes Theatre Co on Mondays (where applicable), Tuesdays, Wednesdays and Thursdays when purchased in person at the box office, half an hour prior to commencement of the performance with I.D. showing residential address.