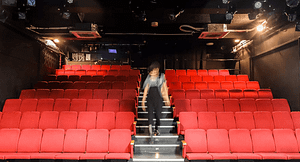 Hayes Theatre is a 111 seat raked theatre with a foyer, bar and balcony space.
The auditorium is accessed via a single door from the theatre foyer with 12 steps from the foyer to the back of the auditorium. The theatre seats 111 people in rows A – H with seats numbered 1-15, and a central aisle between seats 8 and 9.
Rows G and H are slightly raised to provide for better sight-lines over the rows in front. Footrests are provided for your comfort in these rows.
A limited number of accessible seats are available in the front row of the theatre. A lift operates between from the theatre entrance to the foyer and entry to the auditorium is via the side door located off the balcony for those who have difficulty managing stairs.