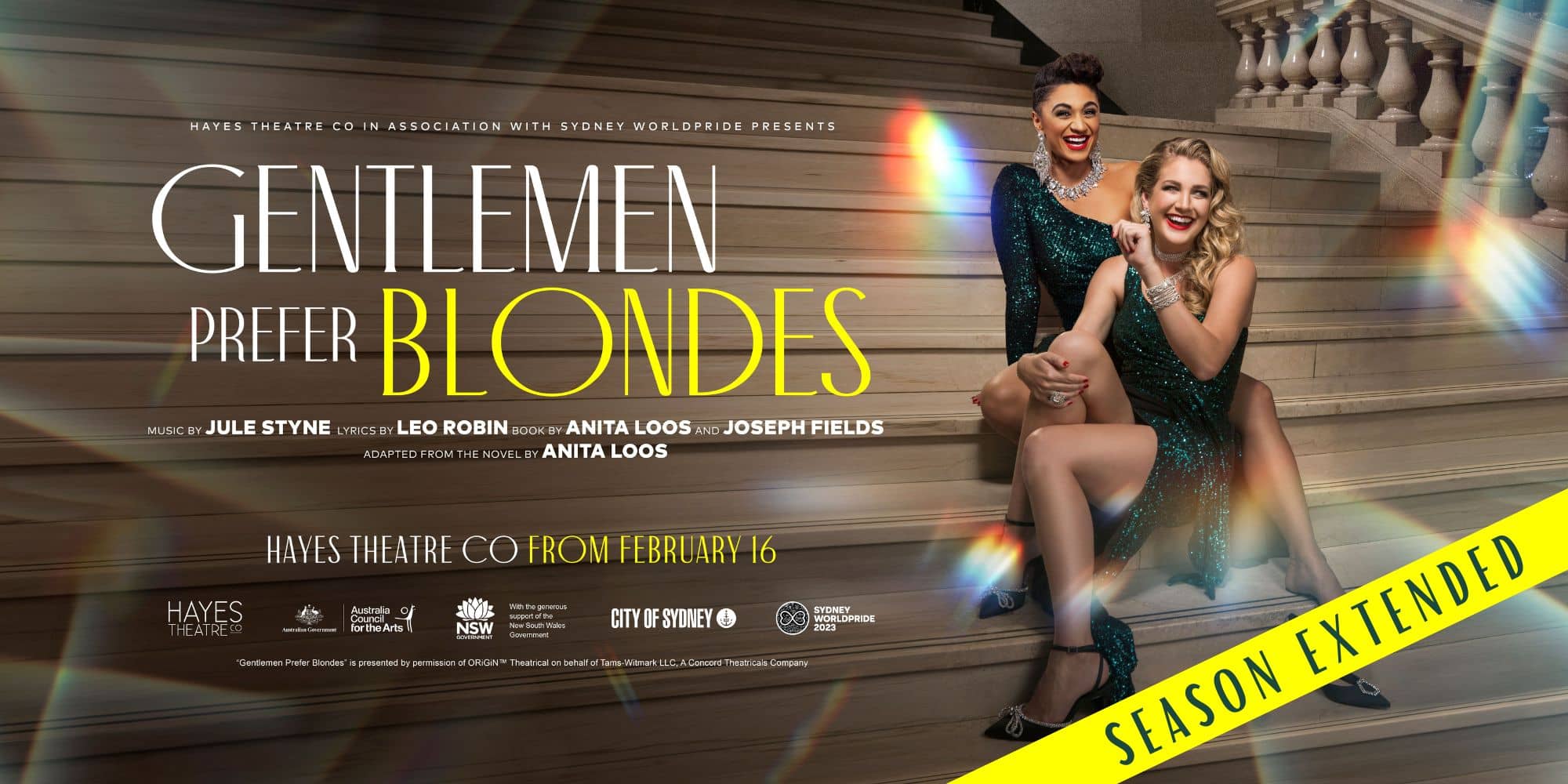 Presented by Hayes Theatre Co in association with Sydney WorldPride
Supported by Create NSW
---
"It's not compensation, it's self-preservation…"
Before Muriel and Rhonda; before Elphaba and Glinda; there was Lorelei and Dorothy.
Jump aboard the luxury cruise liner The Ile De France as we sail across the Atlantic in the company of two of musical theatre's most dazzlingly charismatic heroines. Gentlemen Prefer Blondes tells the raucous and subversive story of Lorelei Lee and Dorothy Shaw – two smart young single women with a burning desire for experiences that aren't supposed to be available to them within the laws and conventions of the 1920s. Armed with only their vitality, ambition, quick wits, and above all their unshakeable friendship – these thoroughly modern women play the men at their own game, and live life to the full. Champagne? Check. Diamonds? Check. Sex? Check, check, check. And as for the consequences? They'll worry about those when the ship docks.
Gentlemen Prefer Blondes made stars of Carol Channing onstage and Marilyn Monroe on film, and this new production for WorldPride Arts, part of the Sydney World Pride festival, sees a queer Australian team serve up a ship-sized slice of high-femme camp. Featuring songs like Bye Bye Baby, I'm Just a Little Girl From Little Rock, and Diamonds Are a Girl's Best Friend, prepare for a wet and wild voyage of self-discovery through a queer lens. And remember – in international waters, all the usual rules are suspended – indefinitely.
This production reunites the acclaimed team of director Richard Carroll (Calamity Jane, Once, Godspell) and musical director Victoria Falconer (Once, Lizzie, Godspell) at Sydney's most celebrated and intimate musical theatre company.
---
[ngg src="galleries" ids="7″ display="basic_slideshow" gallery_width="1150″ gallery_height="900″ transition_speed="700″]
PRICES
Previews
Full Price $75 | Diamond Experience $85
Thursday Matinees
Full Price $85 | Concession $79 | Diamond Experience $95
Weeknights & Saturday Matinees
Full Price $89 | Concession $83 | Diamond Experience $99
Friday & Saturday Evenings
Full Price $99 | Diamond Experience $109
Diamond Experience
Onstage seating that provides the best possible Gentlemen Prefer Blondes experience. Join the action and enjoy a bottle of Piper-Heidsieck Brut Champagne at your table for only $80!
Show your ticket at the bar to claim your discounted bottle and glasses. 
*Concession prices apply to Seniors, Pensioners, Students and MEAA members.
---
CAST & CREATIVES
Director Richard Carroll
Musical Director Victoria Falconer
Choreographer Sally Dashwood
Set Designer Dan Potra
Costume Designer Angela White
Lighting Designer Benjamin Brockman
Associate Musical Director Abi McCunn
Stage Manager Bronte Schuftan
Assistant Stage Manager Anastasia Mowen
Dialect Coach Benjamin Purser
Intimacy Coordinator Caroline Kaspar
Starring Octavia Barron-Martin, Thomas Campbell, Ruby Clark, Adam Di Martino, Emily Havea, Georgina Hopson, Tomáš Kantor, Leah Lim, Tomas Parrish, Matthew Predny, Monica Sayers
Band Nathan Barraclough, Victoria Falconer, Amanda Jenkins, Abi McCunn, Jarrad Payne
---
Q&A with the Cast of Gentlemen Prefer Blondes!
Taking place on Monday 20 March in the theatre following the performance.
Estimated running time: 30 mins
---
ACCESSIBILITY
Captioned Performance
Thursday 2 March 7:30pm
Patrons are able to view captions on large screens in Rows E – Rows H.
Patrons seated in Rows A – Rows D can access the captions via their mobile phones. Instructions and QR codes will be available in the foyer prior to the performance.
Please contact the Box Office if you require assistance to book seats with a view of the captioning screens (Row E and behind).
Wheelchair Seating
A limited number of accessible seats are available in the front row of the theatre (A13-A15). These, as well as Companion seats, can be purchased through the 'Book Now' link.
Please contact the box office on (02) 8065 7337 if you have any questions regarding our accessibility.