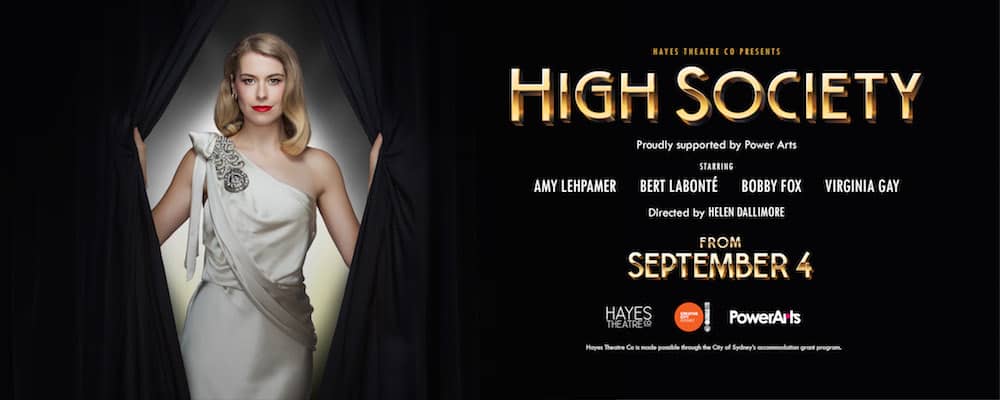 Presented by Hayes Theatre Co
Proudly supported by Power Arts and Piper-Heidsieck
DIRECTOR Helen Dallimore
MUSICAL DIRECTOR Daryl Wallis
CHOREOGRAPHER Cameron Mitchell
SET DESIGNER Lauren Peters
LIGHTING DESIGNER Ross Graham
COSTUME DESIGNER Lucetta Stapleton
CO-PRODUCER Lisa Campbell
GENERAL MANAGER Victoria Wildie
PRODUCER Richard Carroll
Starring Amy Lehpamer, Bert LaBonté, Bobby Fox, Virginia Gay, Scott Irwin, Delia Hannah, Jessica Whitfield, Laurence Coy, Russell Cheek, Michelle Barr, Phillip Lowe
Who'd want to be a millionaire?
The captivating Tracy Lord invites you to the most exclusive wedding of 1938. There's 700 guests, oceans of champagne, and a couple of pesky undercover journalists threatening to transform the whole affair from shindig to scandal. Oh, and one thing remains uncertain – who exactly will be the groom?
Adored by a society that worships her looks, money and feminine grace, why does Tracy still feel unvalued? Perhaps she needs to learn that "the occasional tumble off the pedestal is good for a person." Wayward family members, wise-cracking interlopers and an inconvenient ex-husband all converge to turn Tracy's wedding preparations into a battle against temptation, dirty tricks, and basic sobriety. What a swell party this is!
High Society is the first production produced in-house by Hayes Theatre Co. The show will be directed by musical theatre superstar Helen Dallimore (Blood Brothers, Legally Blonde, Wicked – West End), with an exceptional cast led by Amy Lehpamer (The Rocky Horror Show, Once, Dirty Rotten Scoundrels), Bert Labonte (Rupert, Pippin, Next To Normal – MTC), Bobby Fox (Blood Brothers, Jersey Boys, Hot Shoe Shuffle), and Virginia Gay (TV's Winners & Losers and All Saints, The Producers).
HIGH SOCIETY
Based on the play 'The Philadelphia Story' by Philip Barry
Also based on the Turner Entertainment Co. motion picture 'High Society'
Original Broadway Production produced by Lauren Mitchell and Robert Gailus, Hal Luftig and Richard Samson, Dodger Endemic Theatricals in association with Bill Haber
Originally produced by American Conservatory Theatre, San Francisco, CA. Carey Perloff, Artistic Director, Heather Kitchen, Managing Director