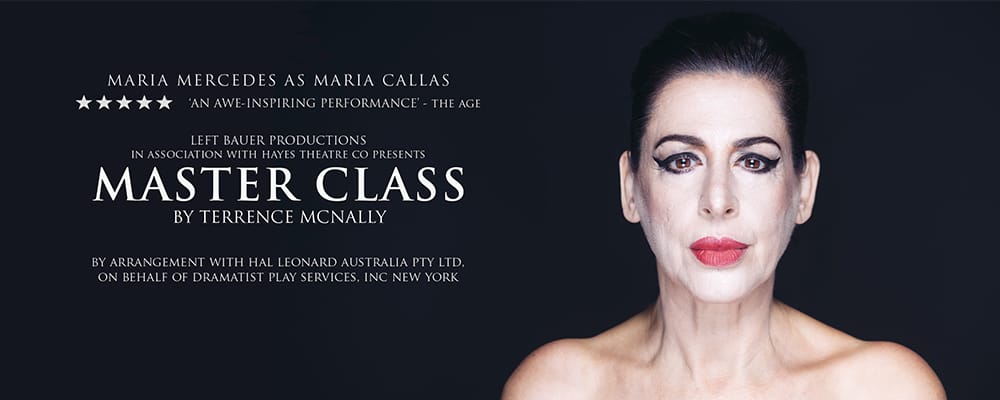 Presented by Left Bauer Productions in association with Hayes Theatre Co
DIRECTOR Daniel Lammin
PRODUCERS Michele Bauer and Cameron Lukey
LIGHTING DESIGNER Brendan Jellie
COSTUME DESIGNER Owen Phillips
SOUND DESIGNER James Hogan
Starring Maria Mercedes, Cameron Thomas, Georgia Wilkinson, Blake Bowden
MARIA MERCEDES AS LA DIVINA Celebrated Greek-Australian performer Maria Mercedes takes on the role of a lifetime as legendary Greek-American opera singer Maria Callas.
With leading roles in the Australian premieres of Nine, Sunset Boulevard and Love Never Dies, as well as films such as Head on and Dreams for Life, Maria Mercedes returns to what she describes as "the greatest challenge of my career" for a Sydney season of Terrence McNally's Master Class.
"Maria Callas is my dream role", says Mercedes, "and I couldn't be more thrilled to honour the life of a woman I admire not only for her incredible artistry and passion, but for the daring, honest way she lived her life."
Acting as the launching production of new theatre company Left Bauer, Master Class was presented at Melbourne's fortyfivedownstairs in 2014 to critical acclaim and a sell-out season, earning Green Room nominations for Best Actress and Best Director.
Set in 1971, the play depicts Callas' famed visit to New York's Juilliard School of Music to conduct a series of master classes. "At the time, Callas' career had drawn to a close, her voice a shadow of its former glory," says Cameron Lukey, Artistic Director of Left Bauer.
"Six years later, her death at the age of fifty three sealed her legend as a real life tragic heroine."
Featuring three of Australia's most exciting young operatic talents, Master Class sees Callas prod and provoke her students in a searing, funny and touching portrayal of a woman who knows the sacrifices required to achieve the dream.
Forty years on, Callas' story as a woman forced to choose between her professional and personal life remains as relevant as ever.
★★★★★ "Master Class will delight opera and theatre lovers alike, and audiences will long cherish the memory of Mercedes' marvellous performance." Cameron Woodhead, The Age
"One doesn't need to be familiar with Callas' story to enjoy this thrilling and ambitious production." Sascha Kelly, Limelight
"Maria Mercedes is Callas. She is remarkable… Hers is the kind of astonishing performance that leaves the actor and the script invisible, if not forgotten." Anne-Marie Peard, Aussie Theatre