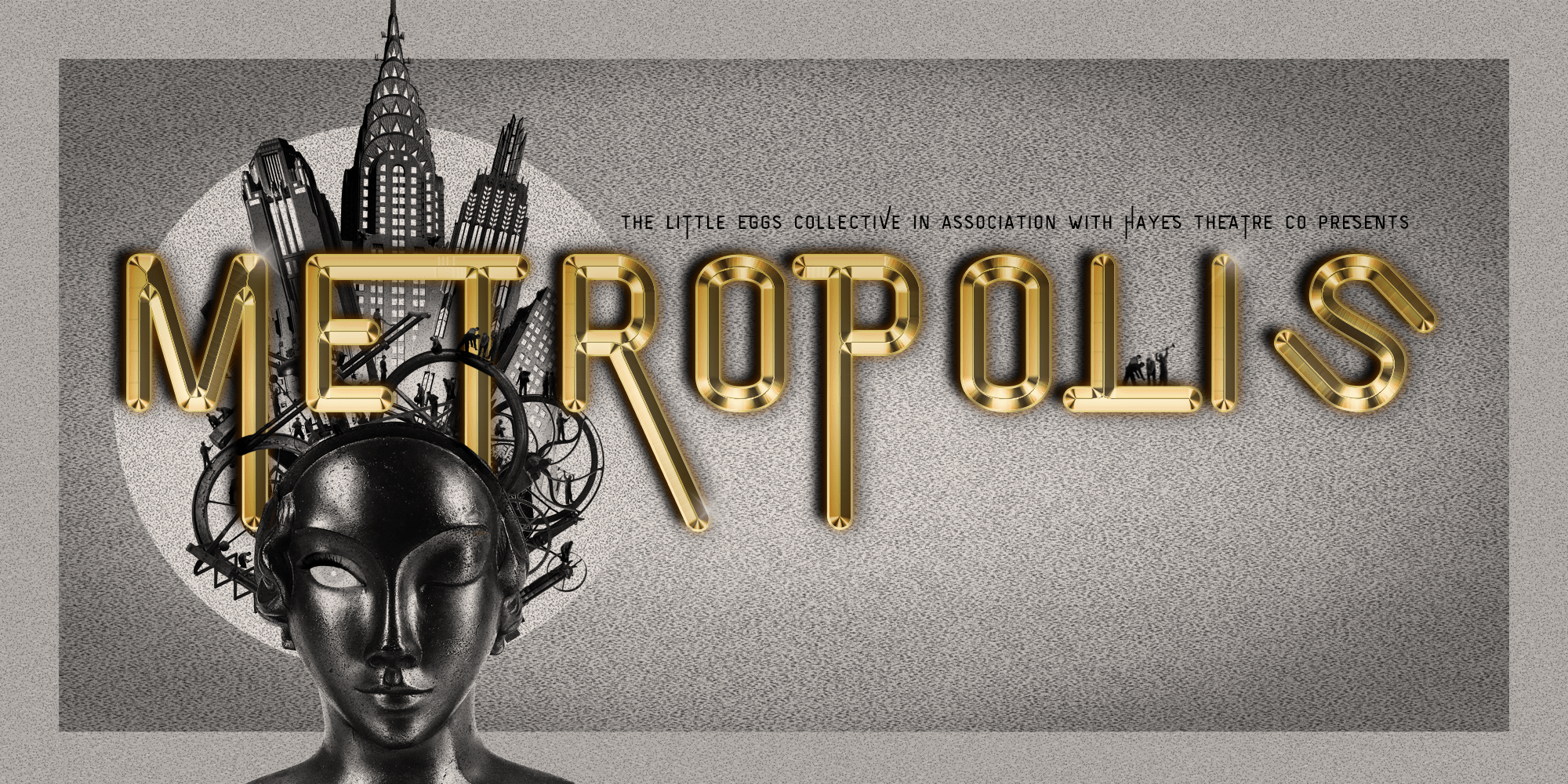 Presented by the Little Eggs Collective in association with Hayes Theatre Co
Director Julia Robertson
Music Director Zara Stanton
Assistant Director Natalie Low
Set Designer Nick Fry
Lighting Designer Ryan McDonald
Costume Designer Ella Butler
Sound Designer Christine Pan
Producer Harry Flitcroft
Starring Thomas Campbell, Tom Dawson, Sam Harmon, Selin Idris, Dominic Lui, Amanda McGregor, Tomas Parrish, AJ Pate, Joshua Robson, Anusha Thomas, Shannen Alyce Quan, Jim Williams
---
Metropolis is a brand new musical adaptation. Based on Thea Von Harbou's original science-fiction novel from 1925, the story presents a futuristic city with a false utopia that exists above a bleak hidden reality. Metropolis is considered one of the most influential science-fiction novels of all time.
[ngg src="galleries" ids="8″ display="basic_slideshow" gallery_width="950″ gallery_height="700″ transition_speed="400″]Produced by Little Eggs Collective in association with Hayes Theatre Co, see the story turned into a live theatre experience – with an original new score. The Little Eggs Collective create award-winning contemporary theatre across mediums including live music, movement, spoken word and beyond. Unique to this particular production is Futura, a life-sized robot puppet that will be puppeteered and voiced by 3 cast members. With a talented and diverse cast of 12, Metropolis will have you on the edge of your seat, captivated and entertained by this brand new musical masterpiece.
Find out what reviewers have been saying about Metropolis:
"so slick and impactful that I wouldn't blame you if you didn't realise that this is the premiere of a brand new Australian-made show." – Time Out
"so ferociously gripping in terms of composition and staging that you have to remind yourself to breathe." – Sydney Morning Herald
"it is difficult to not be in awe the entire time. Metropolis is an intricate melting pot with elements of puppetry, movement, drama, and song which move you through a provoking narrative. A show as good as this is not to be missed, magnificent." – Theatre Travels
"unflinchingly fresh and truly special. I am licking my lips with satisfaction, and I recommend you too go and get your fill." – Theatre Thoughts
"Metropolis is a thrilling and engrossing achievement. The choreography is spectacular" – Stage Noise
"The artists aimed for artistic excellence and achieved this leaving the audience breathless." – Stage Whispers
---
PRICES
Previews
Full Price $59
In Season
Full Price $79 | Concession $69 | Group 8+ $69
*Concession prices apply to Seniors, Pensioners, Students and MEAA members.
---
ACCESSIBILITY
Wheelchair Seating
A limited number of accessible seats are available in the front row of the theatre (A13-A15). These, as well as Companion seats, can be purchased through the 'Book Now' link.
Please contact the box office on (02) 8065 7337 if you have any questions regarding our accessibility.