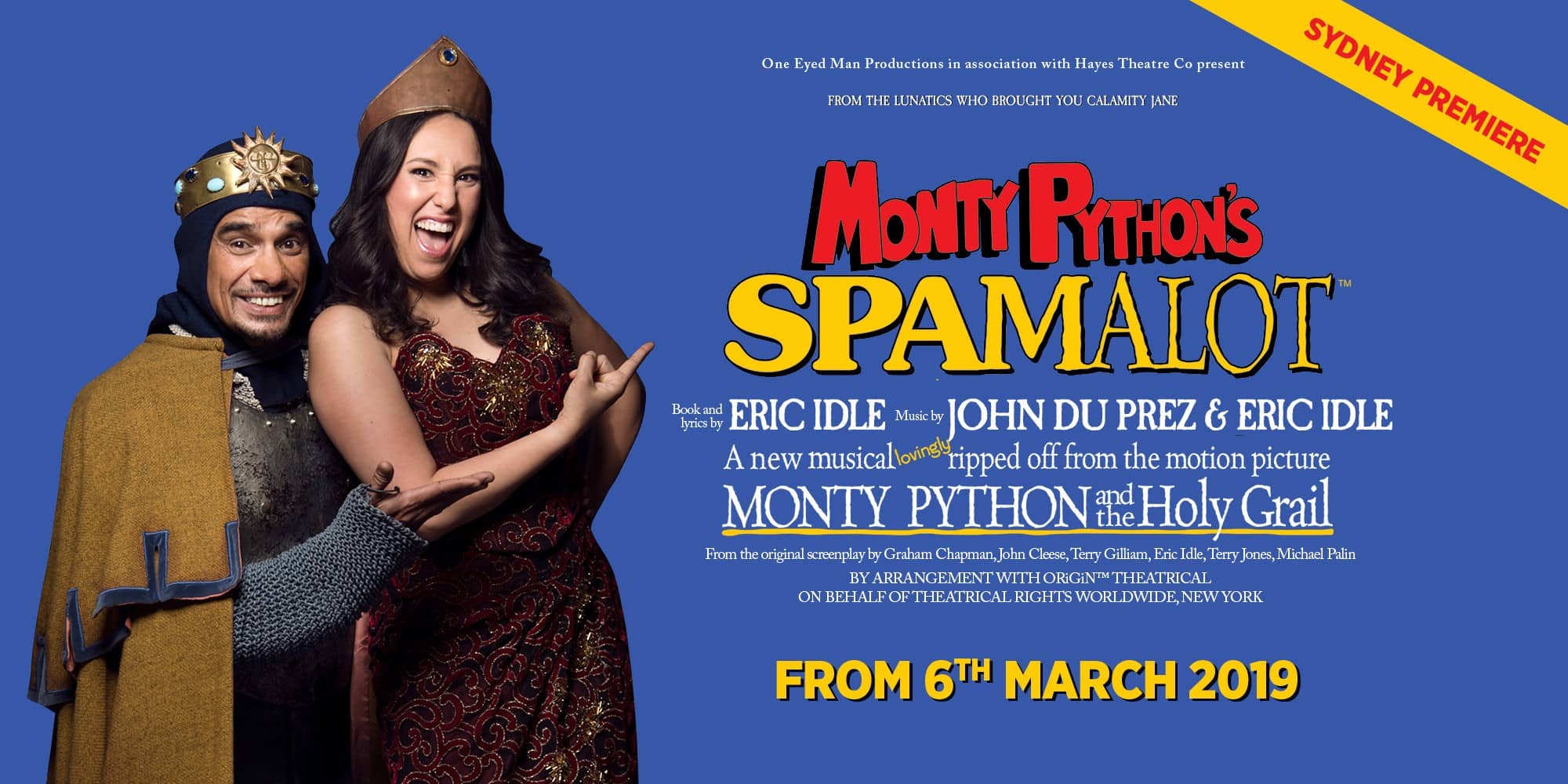 A new musical lovingly ripped off from the Motion Picture
Monty Python and the Holy Grail
Presented by One Eyed Man Productions in association with Hayes Theatre Co
Director Richard Carroll
Choreographer Cameron Mitchell
Musical Supervisor Conrad Hamill
Designer Emma Vine
Lighting Designer Katie Sfetkidis
Associate Producer Michelle Guthrie
Production Manager Carl McKinnon
Stage Manager Gayda de Mesa
Assistant Stage Manager Bronte MacInnes
Cast includes Marty Alix, Blake Appelqvist, Cramer Cain, Rob Johnson, Josie Lane, Aaron Tsindos, Bishanyia Vincent and Jane Watt
From the lunatics who brought you Calamity Jane
Lovingly ripped off from the classic film comedy Monty Python and the Holy Grail, SPAMALOT re-tells the legend of King Arthur and his Knights of the Round Table. Guided by the fabulous belting diva The Lady of the Lake, the knights battle their way past various cows, killer rabbits, and French people in pursuit of claiming the legendary Grail.
Monty Python's SPAMALOT was a smash hit in both New York and London, and won the Tony Award for Best Musical. Now the show comes to Sydney for the very first time, in a production that re-defines the word 'epic'. Really, really re-defines it.
A diverse, cross-gender cast of heroic/foolish actors (and their assistant stage manager) embrace the satirical, home-made spirit of the original movie and the Monty Python TV series, enlisting the help of some carefully-chosen backdrops, a CD player, and – when all else fails – a large dose of meta-theatrical humour. From the minds of the director and choreographer of 2017's smash-hit Calamity Jane – audiences should hold on tight, expect the unexpected, and Always Look on the Bright Side of Life.
From the original screenplay by Graham Chapman, John Cleese, Terry Gilliam, Eric Idle, Terry Jones, Michael Palin
By arrangement with ORiGiN THEATRICAL
On behalf of Theatrical Rights Worldwide, New York
Monty Python's Spamalot is part of the 2011 Postcode offer. Residents of 2011 can obtain half price tickets 30 minutes prior to performances Mon-Thurs with proof of address. Subject to availability.