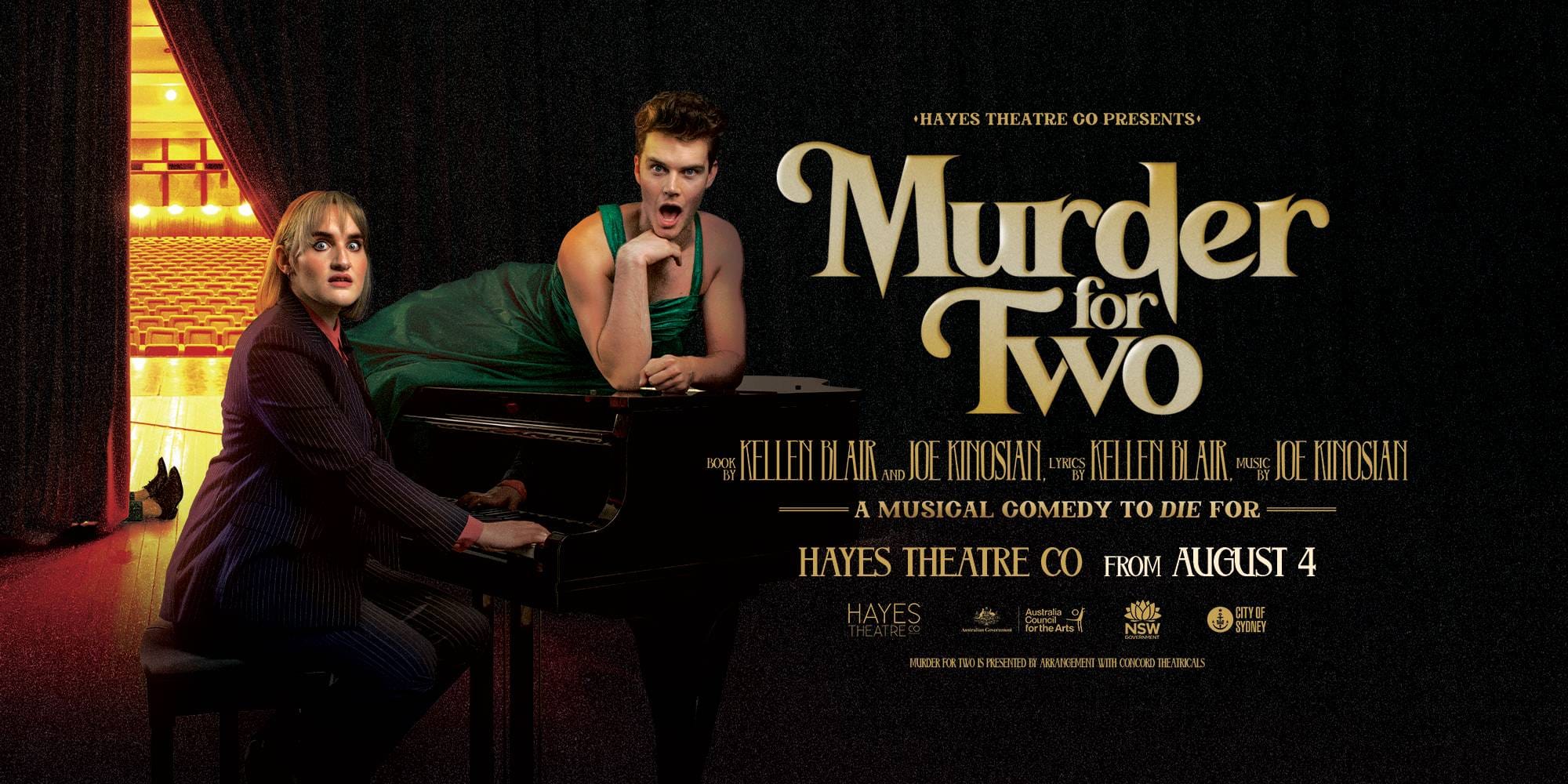 Presented by Hayes Theatre Co
Murder For Two is presented by arrangement with Concord Theatricals.
www.concordtheatricals.com
Artwork by Kenney Ogilvie
---
"Ingenious!" – The New York Times
Officer Marcus Moscowicz is a small-town policeman with dreams of making it to detective. One fateful night, shots ring out at the surprise birthday party of Great American Novelist Arthur Whitney, and the writer is killed…fatally. With the nearest detective an hour away, Marcus jumps at the chance to prove his sleuthing skills—with the help of his silent partner, Lou. But whodunit? Did Dahlia Whitney, Arthur's scene-stealing wife, give him a big finish? Is Barrette Lewis, the prima ballerina, the prime suspect? Did Dr. Griff, the overly friendly psychiatrist, make a frenemy? Marcus has only a short amount of time to find the killer and make his name before the real detective arrives… and the ice cream melts. 
Murder For Two  is an outrageous blend of music, mayhem, and murder. In this hilarious 90-minute show, 2 performers play 13 roles – not to mention the piano – in a witty parody of classic murder mysteries. 
---
CAST & CREATIVES
Director Richard Carroll
Musical Supervisor Damon Wade
Choreographer Shannon Burns
Set & Costume Designer Keerthi Subramanyam
Lighting Designer Priyanka Martin
Sound Designer Daniel Herten
Stage Manager Jessie Byrne
Rehearsal Stage Manager Alexis Worthing
Directorial Assistant Tiffany Wong
Production Manager Abbey Pace
Production Assistant Kaylee Ashton
Dialect Coach Linda Nicholls-Gidley
Starring Gabbi Bolt, Maverick Newman and Sam Marques
---
PRICES
Previews
Full Price $65
Tuesday Evenings & Thursday Matinees
Full Price $69
Weeknights, Saturday Matinees & Sundays
Full Price $79 | Concession $74 | Group (8+) $74
Friday & Saturday Evenings
Full Price $85
*Concession prices apply to Seniors, Pensioners, Students and MEAA members.
---
ACCESSIBILITY
Captioned Performance
Wednesday 16th August 7:30pm
Patrons are able to view captions on large screens in Rows E – Rows H.
Patrons seated in Rows A – Rows D can access the captions via their mobile phones. Instructions and QR codes will be available in the foyer prior to the performance.
Please contact the Box Office if you require assistance to book seats with a view of the captioning screens (Row E and behind).
Wheelchair Seating
A limited number of accessible seats are available in the front row of the theatre (A13-A15). These, as well as Companion seats, can be purchased through the 'Book Now' link.
Please contact the box office on (02) 8065 7337 if you have any questions regarding our accessibility.