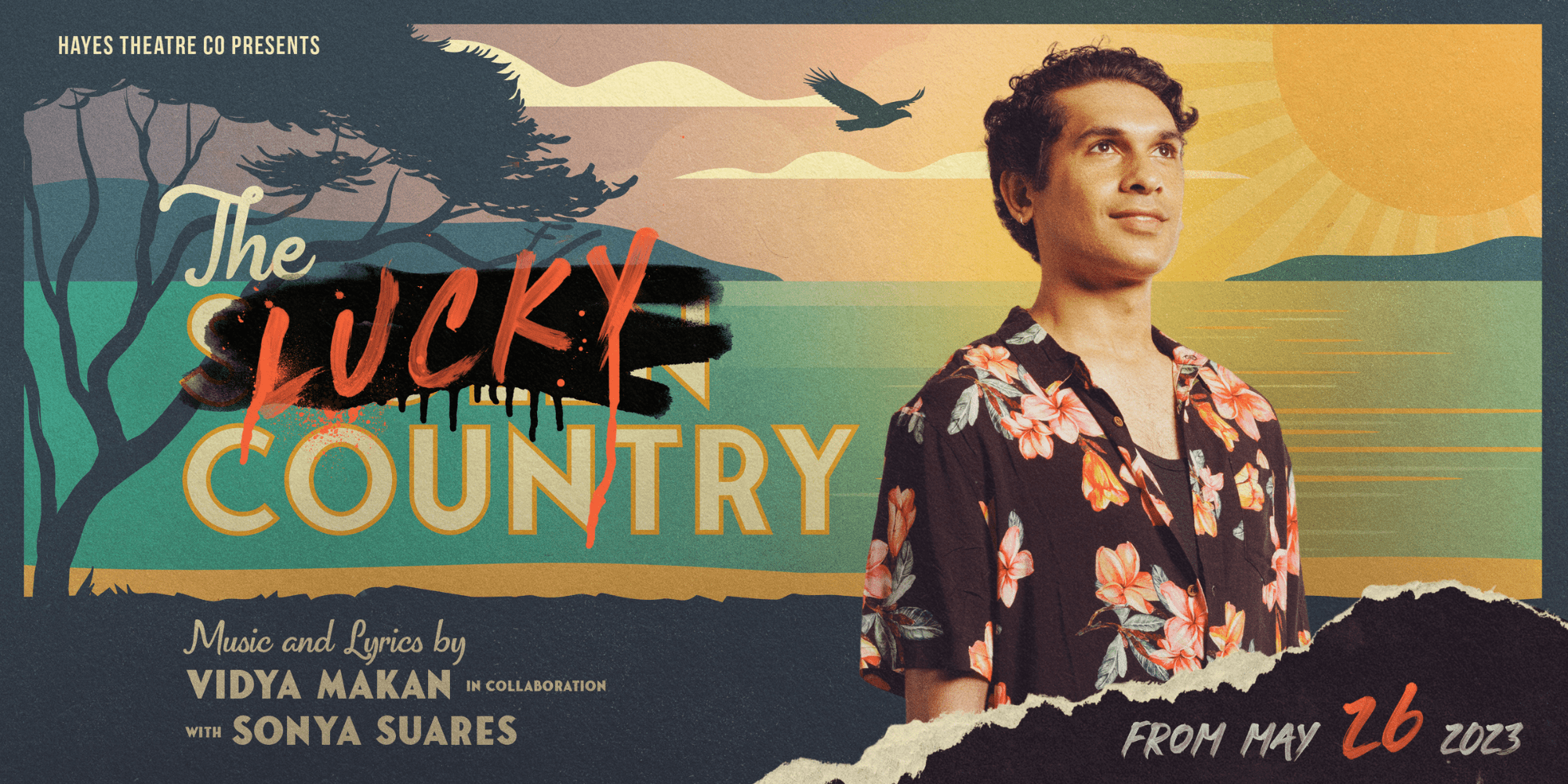 Presented by Hayes Theatre Co
Developed with the support of Frederic Marguerre and Rodrigo Martino
---
CAST & CREATIVES
Director Sonya Suares
Musical Director & Orchestrator Heidi Maguire
Choreographer Amy Zhang
Cultural Advisor Amy Sole
Set and Costume Designer Emily Collett
Lighting Designer Rob Sowinski
Video Designer Justin Harrison
Sound Designer Michael Tan
Associate Lighting Designer Lucia Haddad
Stage Manager Anastasia Mowen
Associate Artist Bali Padda
Assistant to the Director Michele Gould
Starring Joseph Althouse, Dyagula, Milo Hartill, Jeffrey Liu, Vidya Makan (May 26 – June 3), Ava Madon (June 5 – end of season), Kristal West, Karlis Zaid
Band Nathan Barraclough, Heidi Maguire, Ann Metry, Billy McPherson, Kathryn Stammers
---
The Lucky Country is a rollicking chamber musical that digs deep into the idea of Australia, identity and belonging.
We meet Boy, a 13-year-old Thitharr Warra boy, whose youthful optimism is dashed when he clashes with his classmates' notion of 'our shared history'. It sparks a journey of self-actualisation that leads him back to class to deliver a profound truth.
While Boy is grappling with the fault-lines in our national story, we are introduced to a collection of all-Aussie characters: grey nomads who find love crashing a Contiki tour; a Chinese Australian restauranteur who dreams of life as a Byron Bay nudist; a young refugee in Mingoola; a WW2 veteran; an aspiring actress, and an all fake-Russian choir, to name but a few.
The Lucky Country is a bold and timely new work that gives a voice to those typically marginalised in our conversations about Australian identity and history. Cathartic, heartfelt and playful in turn, this is a powerful 70 minutes of theatre featuring an ensemble of six exceptional performers and a five-piece band (including yidaki – didgeridoo), illuminated and amplified by kaleidoscopic audiovisual design.
A celebration of a new vision for who we can be as Australians.
---
[ngg src="galleries" ids="10″ display="basic_slideshow" gallery_width="900″ gallery_height="650″ transition_speed="500″]
PRICES
Previews & Thursday Matinees
Full Price $60
Weeknights & Saturday Matinees
Full Price $70 | Concession $65 | Group (8+) $65
Friday & Saturday Evenings
Full Price $75
*Concession prices apply to Seniors, Pensioners, Students and MEAA members.
---
Q&A WITH THE CAST AND WRITERS OF THE LUCKY COUNTRY!
Taking place on Saturday 2 June in the theatre following the matinee performance at 2pm.
Estimated running time: 30 mins
---
ACCESSIBILITY
Captioned Performance
Wednesday 7 June 7:30pm
Patrons are able to view captions on large screens in Rows E – Rows H.
Patrons seated in Rows A – Rows D, can access the captions via their mobile phones. Instructions and QR codes will be available in the foyer prior to the performance.
Please contact the Box Office if you require assistance to book seats with a view of the captioning screens (Row E and behind).

Wheelchair Seating
A limited number of accessible seats are available in the front row of the theatre (A13-A15). These, as well as Companion seats, can be purchased through the 'Book Now' link.
Please contact the box office on (02) 8065 7337 if you have any questions regarding our accessibility.