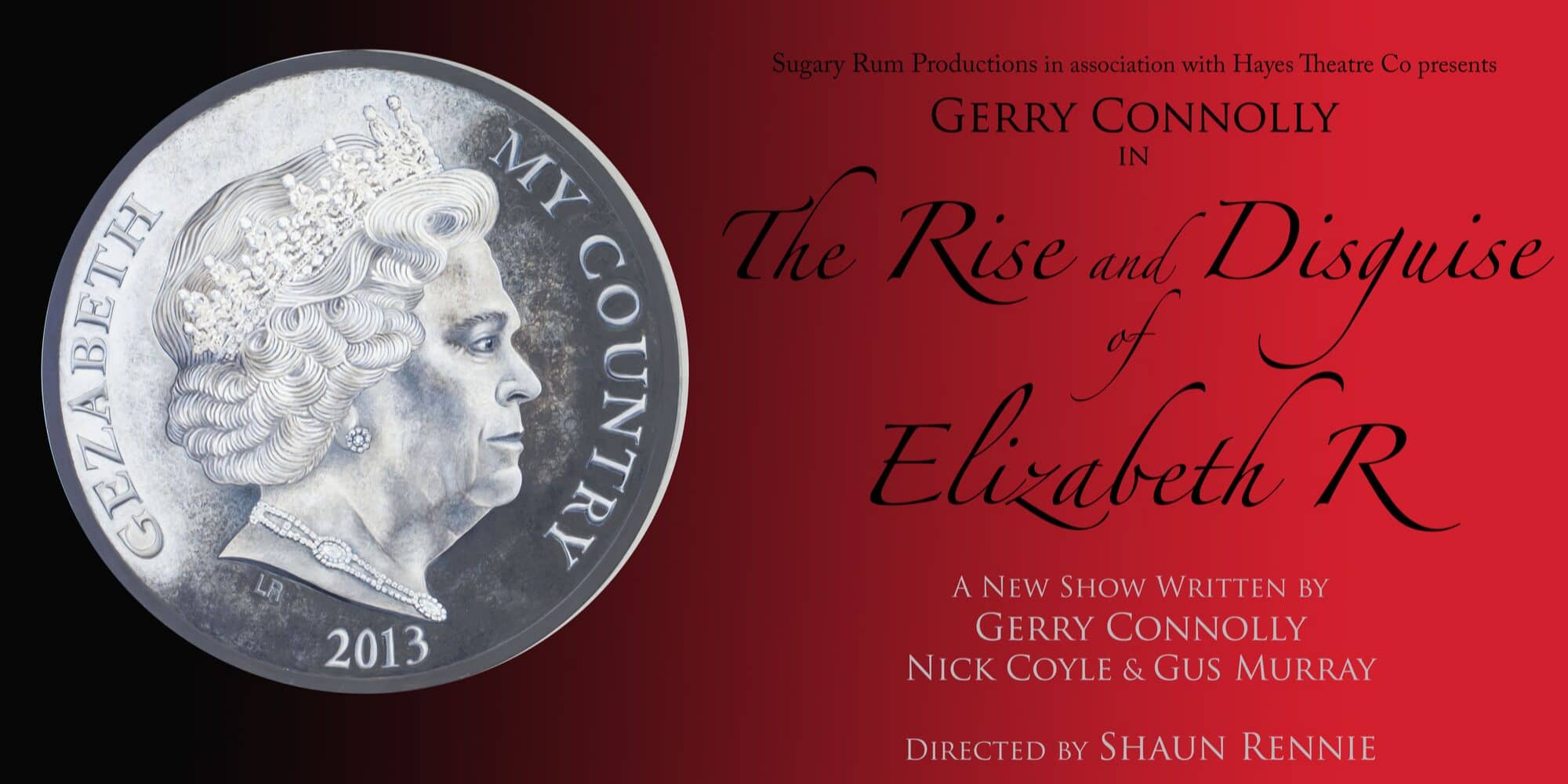 Presented by Sugary Rum Productions in association with Hayes Theatre Co
Composer & Musical Director Max Lambert
Director Shaun Rennie
Choreographer Leah Howard
Set & Costume Designer Jeremy Allen
Lighting Designer Trent Suidgeest
Sound Designer Dave Bergman
Orchestration & Track Production Sean Peter
Assistant Director Daniel Cottier
Associate Lighting Designer James Wallis
Additional Music Gerry Connolly & Laura Murphy
Sound Operator Anthony Lorenz
Stage Managers Daniel Cottier & Adrienne Patterson
Assistant Stage Manager Claire Miller
Producer Gus Murray
Starring Gerry Connolly, Rob Mallett & Laura Murphy
Gerry Connolly is a familiar and much-loved face in Australia. A versatile actor, comic and musician, we have watched him in classics Fast Forward and Joh's Jury and on stage in Urinetown and Nick Enright's Summer Rain, in opera, with symphony orchestras and the regal opening of an envelope. Perhaps his most enduring performance has been his inhabitation of Queen Elizabeth II. Over four decades, his loving (and uncanny) representation of her, full of dry wit and surprising ingenuity, has become an Australian icon.
This brand new story brings to life many of Gerry's brilliant alter-egos, from Her Maj, her son, her bête noir the Baroness Thatcher, her Australian PMs to other famous home-grown personalities… As the Queen nears the end of her reign, this show explores her history, her hidden personality, and the weird sense of intimacy that has developed for Gerry over decades of walking in the shoes of The Monarch.
Directed by Hayes favourite Shaun Rennie (Only Heaven Knows, The View UpStairs) and supported by a cast of talented comic triple threats, Gerry will push boundaries, as always, in this outing, full of pathos, humour and magic. Expect the unexpected in a show that delivers what the Royal Family isn't known for: gags, show tunes, and dancing.
Image courtesy Luke Roberts
This production is part of the 2011 postcode offer. Residents of 2011 can obtain half price tickets 30mins prior to performances Mon – Thurs. Subject to availability.