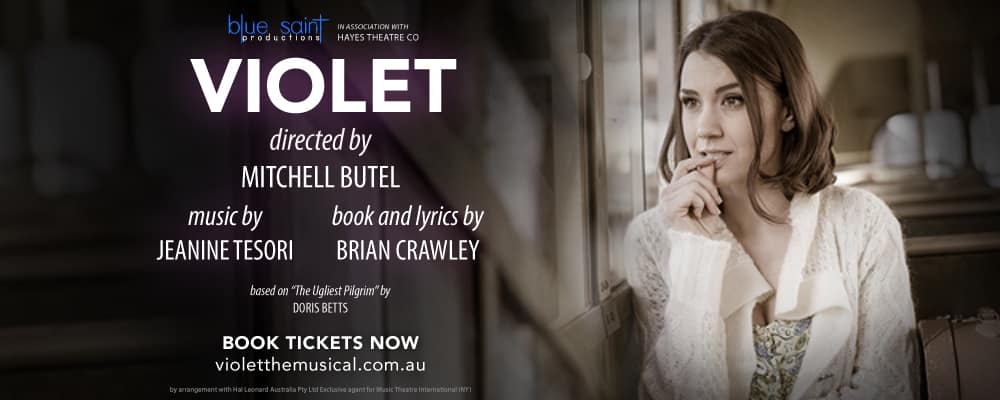 Presented by Blue Saint Productions in association with Hayes Theatre Co
DIRECTOR Mitchell Butel
MUSICAL DIRECTOR Lucy Bermingham
CHOREOGRAPHER Amy Campbell
COSTUME DESIGNER Lucetta Stapleton
SET DESIGNER Simon Greer
LIGHTING DESIGNER Ross Graham
STAGE MANAGER Lauren Tulloh
Starring Samantha Dodemaide, Steve Danielsen, Barry Conrad, Genevieve Lemon, Damien Bermingham, Dash Kruck, Elenoa Rokobaro, Ryan Gonzalez, Linden Furnell, Katie Elle-Reeve, Luisa Scrofani
Blue Saint Productions in association with Hayes Theatre Co are thrilled to premiere this 2014 Broadway revival in Australia.
Violet is a musical with music by Jeanine Tesori and libretto by Brian Crawley based on the short story "The Ugliest Pilgrim" by Doris Betts. It tells the story of a young disfigured woman who embarks on a journey by bus from her farm in Spruce Pine, North Carolina, all the way to Tulsa, Oklahoma in order to be healed.
To be presented at Hayes Theatre Co in Nov/Dec 2015, Violet is to be directed by Australian theatre icon Mitchell Butel with Musical Direction by Lucy Bermingham (Strictly Ballroom, Guilty Pleasures), Choreography by Amy Campbell (Guilty Pleasures, SYTYCD) and Set Design by Simon Greer (Man of La Mancha).